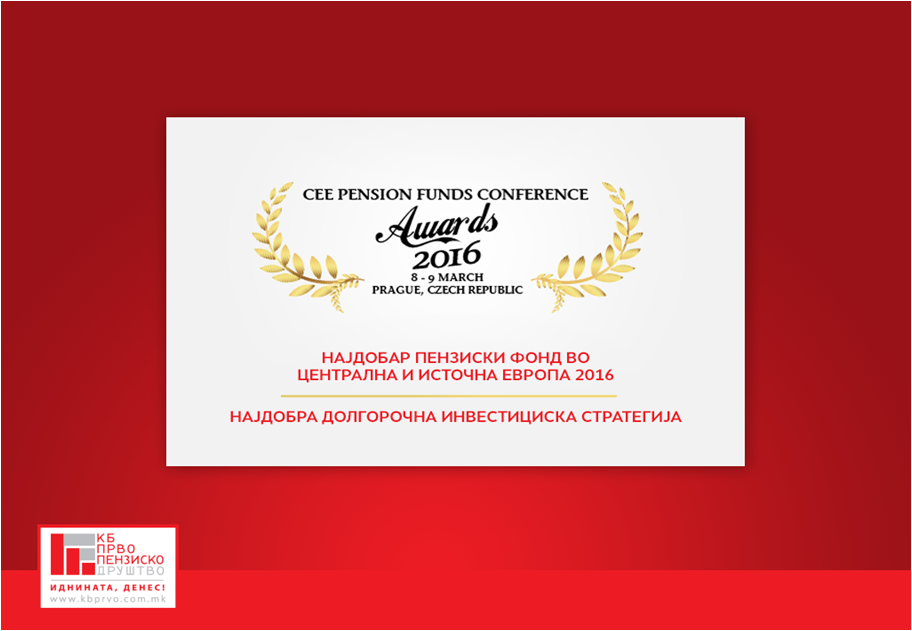 Jun
14
2016
Awards for "2016 Best Pension Fund in Central and Eastern Europe" and "Best long-term investment strategy"
KB FIRST PENSION COMPANY AD SKOPJE
At the third Annual Conference of Pension Funds from Central and Eastern Europe (CEE Pension Funds Conference & Awards 2016) in Prague, Czech Republic, held on 8 March 2016 and organized by Fleming, KB First Pension Company AD Skopje received two prestigious awards: "Best Pension Fund in Central and Eastern Europe 2016" and "Best Long-term Investment Strategy".
These awards are another confirmation of the successfully reformed pension system in the Republic of Macedonia and the professional work of the Company in the past ten years. Competing Pension Funds from the Czech Republic, Latvia, Estonia, Croatia, Bosnia, etc., and voted by 12 independent judges, KB First Pension Company AD Skopje won the first place in two categories. The Company dedicates these awards to all members of the Fund.
Thus, the Company has once again proved that it has laid the foundation of a success story, which it promises to continue building in the future.